Digital.ai accompagne la transformation digitale des entreprises : gestion de la complexité, accélération de la vitesse de livraison et réduction des risques. Accédez au replay !
Une plateforme DevOps unique pour déployer, fournir et gérer des applications sécurisées et de qualité en continu
Digital.ai Release est une solution de livraison continue, de gestion des mises en production et d'orchestration leader sur le marché qui permet aux équipes de collaborer, d'automatiser la gouvernance et d'éliminer les goulets d'étranglement dans les processus de développement.
Digital.ai Continuous Testing est une solution de tests manuels et automatisés couvrant les cas d'usage fonctionnels, de performance et d'accessibilité.
Découvrez comment modéliser, visualiser et orchestrer facilement les processus de mise en production les plus complexes tout en livrant des applications de haute qualité en testant rapidement et à l'échelle.
Gestion de la complexité des pipelines et processus de mise en production centralisée
Livraison accélérée et réduction des risques
Augmentation de la visibilité pour favoriser la transformation
Tests automatisés à vos processus de livraison à l'échelle de l'entreprise
Création et débogage des tests simplifiés
Accédez au Replay de ce webinar Digital.ai : Présentation & Démonstration des solutions Digital .ai Release & Digital.ai Continuous Testing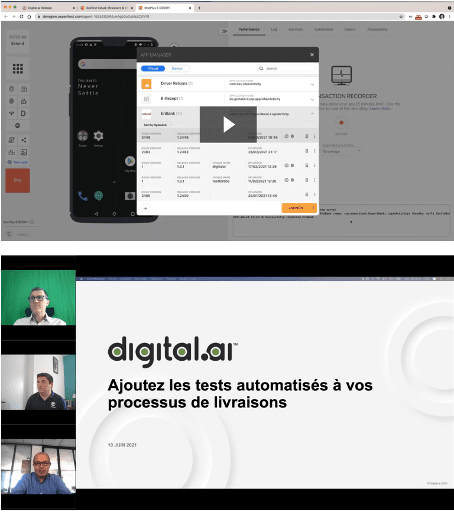 Please wait, you may need to disable your adblocker or adjust privacy settings to view content
Vous voulez continuer à explorer d'autres ressources ?