Digital.ai Continuous Testing is a continuous testing platform that can be deployed as a SaaS or an on-premises solution. Digital.ai Continuous Testing helps government agencies test user experiences across all devices and web browsers by providing test coverage across 2,000+ real devices. Digital.ai Continuous Testing also seamlessly integrates with DevOps/DevSecOps tools, so developers can ultimately deliver high quality and secure applications.
Application Release
Accelerate testing and release cycles
Improve end-user experience
Automate manual testing procedures and requirements
Real-time Feedback
Aligns disparate DevOps tools & technologies
Connect all DevOps tools and release pipelines
Integrates backing management & ITSM into the SDLC
Testing Infrastructure
On-demand reporting
Access control reporting & tracking
Approval & security/QA test tracking
User-friendly Platform
Aligns different stakeholders in the SDLC
Collects end-to-end data to prove SDLC inefficiencies
Identifies bottlenecks in release pipelines
Corporate information
NAICS Code: 541519, 511210
DUNS Code: 139023258; 003131385; 079790634
Cage Code: 3FLQ7
Vertosoft GSA Contract: #GS-35F-688GA
About Digital.ai
Digital.ai is an industry-leading technology company dedicated to helping Global 5000 enterprises achieve digital transformation goals. The company's AI-powered DevSecOps platform unifies, secures, and generates predictive insights across the software lifecycle. Digital.ai empowers organizations to scale software development teams, continuously deliver software with greater quality and security while uncovering new market opportunities and enhancing business value through smarter software investments.
Additional information about Digital.ai can be found at digital.ai and on Twitter, LinkedIn and Facebook.
Learn more at Digital.ai Government Solutions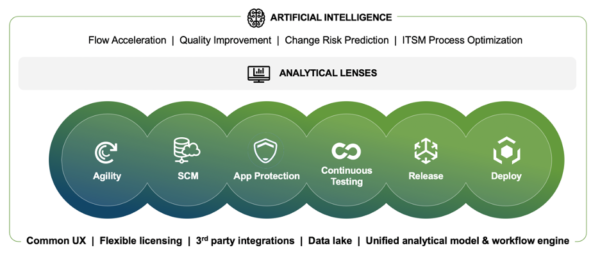 Want To Keep Exploring Other Resources?