Automatiser et standardiser les déploiements d'applications complexes à l'échelle de l'entreprise. Découvrez notre démo de la solution Digital.ai Deploy.
Démonstration Solution : Déploiements à l'échelle
Même si beaucoup d'attention et de ressources sont portées à la transformation numérique, de nombreuses entreprises peinent à tirer profit de ses avantages, car il s'agit d'un long parcours semé d'embûches.
Digital.ai Release est une solution de livraison continue, de gestion des mises en production et d'orchestration leader sur le marché qui permet aux équipes de collaborer, d'automatiser la gouvernance et d'éliminer les goulets d'étranglement dans les processus de développement.
Génération automatisée de plans
Gain en rapidité et efficacité
Evolutivité, sécurité et fiabilité
Réduction des coûts et accélération de l'innovation
Intégration prête à l'emploi
Découvrez la solution Digital.ai Deploy.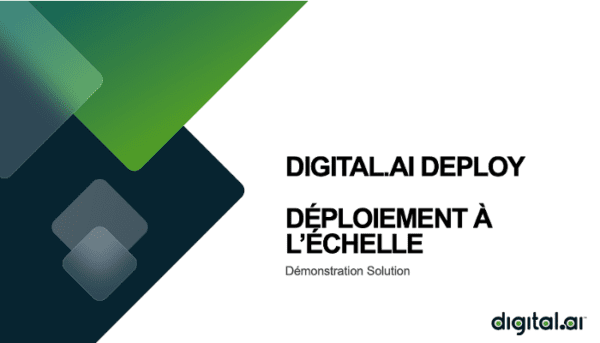 Please wait, you may need to disable your adblocker or adjust privacy settings to view content
Vous voulez continuer à explorer d'autres ressources ?