Allianz, premier assureur européen, accélère la migration de serveurs et applications Legacy vers le Cloud : Infrastructure as code, automatisation des processus, maintenabilité du code, process de DRP by Design. Accédez au replay !
DevOps – Migration des servers Legacy vers le Cloud, au-delà de l'IaaS
Les entreprises sont en quête permanente d'agilité et les changements à l'ère du DevOps constituent des enjeux majeurs pour la communauté IT du CRIP.
La migration de serveurs et applications Legacy dans le Cloud est un véritable challenge pour les Ops.
L'enjeu majeur pour Allianz pour mener à bien ce projet est de pouvoir automatiser l'ensemble de l'infrastructure et de donner une vision d'ensemble aux équipes sur l'ensemble des tâches à réaliser.
Infrastructure 100% automatisée
Augmentation de la sécurité et de la disponibilité des applications
DRP by Design
Ouverture vers le multi-Cloud
Vue de bout-en-bout des processus
Découvrez le Replay de ce webinar proposé par le CRIP et Digital.ai, avec le retour d'expérience de Allianz.
Témoignage Allianz : Eric Bouffetier, Centre de Service Intégration & Gaël Corr, Architecte Technique Région Europe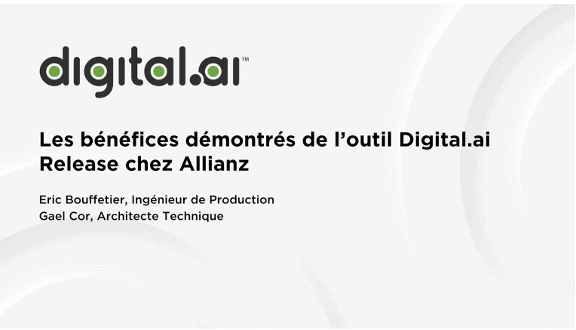 Please wait, you may need to disable your adblocker or adjust privacy settings to view content
Vous voulez continuer à explorer d'autres ressources ?