Groupe BPCE, est le 2e groupe bancaire, avec ses marques Banque Populaire, Caisse d'Epargne et Natixis, met l'accent sur l'agilité et la qualité des applications. Accédez au replay !
Les défis du DevOps pour les Ops !
Pour répondre aux besoins de la transformation digitale et rester compétitives, les entreprises doivent en permanence offrir de la valeur à leurs clients. Avec la généralisation du travail à distance, il est devenu impératif de favoriser la collaboration et d'apporter des outils performants à des équipes dispersées.
Découvrez comment Groupe BPCE augmente la qualité de ses applications, réduit les risques, améliore l'agilité et réduit son Time-to-Market avec Digital.ai Continuous Testing.
Augmentation du patrimoine de tests automatisés
Augmentation de la couverture des tests
Capacité de tests à distance
Industrialisation / mutualisation des fermes
Accédez au replay de ce webinar avec le témoignage Groupe BPCE : Mise en œuvre des solutions Digital.ai Continuous Testing, Thierry Versini, Product Owner, Groupe BPCE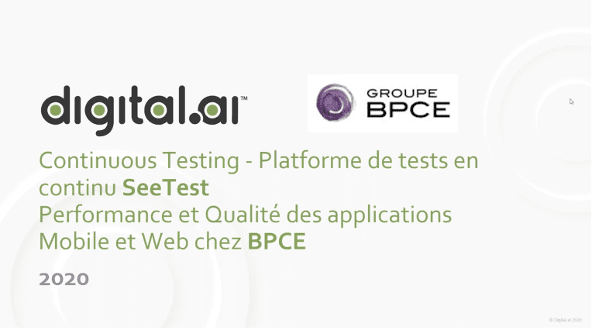 Please wait, you may need to disable your adblocker or adjust privacy settings to view content
Vous voulez continuer à explorer d'autres ressources ?