Digital.ai Release and Digital.ai Deploy Professional Services and Training
A new tool is just the beginning
The right tools can equip companies with technology to help them on their DevOps journey, but a successful shift to DevOps also requires a change in mindset and a change in process.
Digital.ai Professional Services teaches teams best practices for continuous delivery and DevOps, from people to process to tools. We've done it hundreds of times, we've lived the pitfalls and we've found the shortcuts. Let our services team become a virtual part of your team to jumpstart your DevOps journey.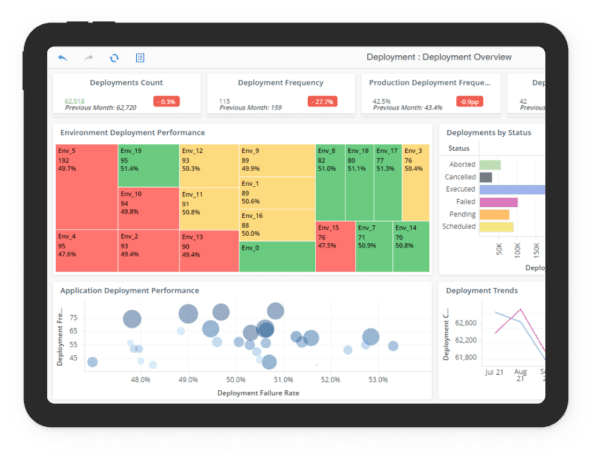 Experts on DevOps and continuous delivery best practices
Unify People, Processes, and Tools
When considering and implementing continuous delivery and DevOps in your organization, learning a specific tool is often the easy part. Bringing together people, processes, and tools is key to successful implementations.
We can help you Improve
No matter what experience your existing team has, what tools you already have in place, or what your processes may look like, we can help you improve. We can first help you evaluate where you need to focus, and then we can help you train your people and set up the processes you need to support you on your journey.
Best Practices and Consulting
The Digital.ai Professional Services team has been providing expertise since the early days of DevOps and provides DevOps and continuous delivery best practices consulting at both a high level and a tools level.
Services and Training Options
Just getting started with Digital.ai and DevOps? Need a consultant to guide you through the initial roadblocks and get your team started on the right foot? Our QuickStart package includes classroom training and implementation services to familiarize your team with DevOps basics and Digital.ai solutions.
Want a little more in-depth training? We offer several training classes, including beginner, intermediate, and advanced courses. Beginner classes consist of quick introductions to Digital.ai solutions and general DevOps best practices. Intermediate classes are centered around the administration and configuration of Digital.ai tools, as well as how your team can work together and institute processes to optimize all of the tools in your DevOps environment.
Advanced classes are centered around developing and customizing Digital.ai tools at the API level and on further streamlining your DevOps pipeline.
Our Custom Services package can include services such as architecture review, installation, app configuration, integrations (with CI Server, security, ALM, test tools, etc.), process architecture, custom plugin or UI extension development, product administration, and even tips on how to "manage up" to ensure DevOps and continuous delivery success.
Our training is delivered however works best for your team — online, in our classroom, or (safely) on-site with your entire team.
Learn at your own pace and use our extensive library of free e-Learning resources and videos.
Don't have enough people or the right skills you need to maintain all your tools? We also provide managed services to help keep your software delivery pipelines running for you.