Natixis, filiale du groupe BPCE, accélère sa démarche DevOps, de l'automatisation des livraisons applicatives au Cloud à l'échelle. Accédez au replay !
DevOps – Migration des servers Legacy vers le Cloud, au-delà de l'IaaS
Au-delà de l'adoption d'une démarche DevOps qui se généralise dans les organisations pour accélérer le Time to Market, l'adoption du Cloud par les projets est un véritable challenge.
Comment généraliser et accélérer l'adoption du Cloud par les projets et propose une offre multi-Cloud pour l'ensemble du patrimoine applicatif ?
Standardisation des processus de livraison
Automatisation du provisioning de vos infrastructures
Industrialisation des déploiements applicatifs
Gestion de la gouvernance et de la sécurité
A découvrir dans le Replay du Webinar proposé par le Digital.ai et Hashicorp, avec le retour d'expérience de Natixis.
Témoignage Natixis : Rémi Roche, Expert Leader DevOps Cloud & Container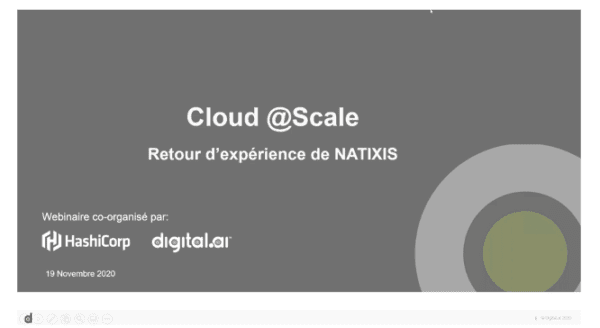 Please wait, you may need to disable your adblocker or adjust privacy settings to view content
Vous voulez continuer à explorer d'autres ressources ?