Digital.ai accompagne la transformation digitale des entreprises grâce à une plateforme DevOps sans équivalent, connectée aux applications, aux infrastructures et aux processus existants pour innover et créer de nouvelles opportunités. Accédez au replay !
La sécurité du Cloud à la vitesse DevOps pour permettre la livraison des logiciels en continu.
Digital.ai Deploy est une solution d'automatisation des déploiements sans agent et basée sur un des meilleurs modèles du marché. Elle augmente la rapidité la fiabilité et l'évolutivité des déploiements d'applications dans n'importe quel environnement, des Mainframes aux machines virtuelles en passant par les conteneurs et le Cloud.
Découvrez comment automatiser et standardiser les déploiements d'applications complexes à l'échelle de l'entreprise avec les solutions Digital.ai :
Génération automatisée de plans
Gain d'efficacité et de rapidité
Amélioration de l'évolutivité, la sécurité et la fiabilité
Réduction des coûts et innovation
Tests automatisés à vos processus de livraison à l'échelle de l'entreprise
Accédez au replay de ce webinar proposé en partenariat avec le CRIP : Démonstration solutions Digital.ai Deploy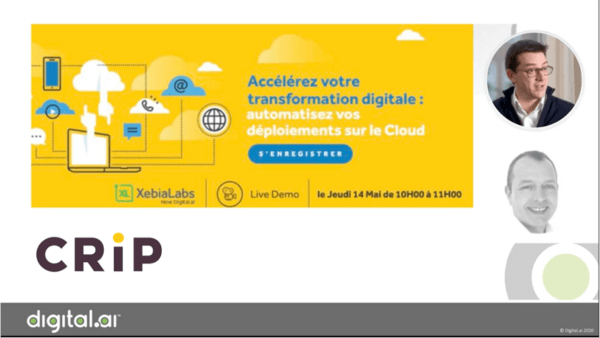 Please wait, you may need to disable your adblocker or adjust privacy settings to view content
Vous voulez continuer à explorer d'autres ressources ?