Drive consistency and efficiency by scaling agile practices across all levels, from teams to the entire product portfolio.
Agile teams are still siloed, and missing delivering value to stakeholders and constituents
As government agencies begin their Agile journey, they often start at the team level with their separate best practices and dispersed task management or legacy project tools. At some point, these Agile teams become siloed, delivering only features after features that do not add value to the stakeholders and constituents.
Critical events happen and may require a change in the agency's direction. Not having an Agile portfolio strategy to prioritize application development to support the respective changes can cause significant issues for the constituents.
Applications are becoming more complex due to the mixed technological environments found in most government agencies (From Legacy to Cloud to IoT). Lacking a consistent Agile approach and tool to orchestrate hundreds of developers can cause inconsistency, failure in mapping dependencies, and pipeline bottlenecks.
Government leaders and teams lack visibility and predictability in the application delivery lifecycle. This deficiency prevents data-driven decisions and makes it difficult to focus on delivering the agency's commitments.
Challenges
Inconsistent and inefficient planning across teams makes it hard to scale
Lack of visibility makes it harder to make data-driven decisions
Invisible dependencies put schedules at risk
Application sprawl, causing failure in hand-offs, complexity and high cost to maintain
Team-level Agile tools don't scale to large, complicated projects and portfolios
Digital.ai is the first vendor to achieve FedRAMP Authorized for its Enterprise Agile Planning product, Digital.ai Agility.
The Agility product provides the capabilities that enable government agencies to scale Agile beyond team-level and across the entire organization, supporting frameworks that include SAFe®, Scrum of Scrums, Spotify, Discipline Agile, and more.
Agility is part of the Digital.ai AI-powered DevOps Platform, which gives you comprehensive capabilities to automate testing and software releases, secure applications, and predict the risks of application delivery.
Digital.ai Agility Solution
Scale your Agile transformation, prioritize and orchestrate deliverables, and focus on what is essential for your stakeholders and constituents.
Digital.ai is the first and only company to date to achieve FedRAMP Authorized for the Enterprise Agile Planning product category.
Digital.ai Agility is an industry-leading enterprise-grade agile planning product that drives consistency and efficiency by scaling agile practices across all levels, from teams to the entire product portfolio, to ensure that applications are delivered on time with the expected value.
With Digital.ai Agility, you can increase development speed and deliver superior value by balancing the backlog across your entire portfolio, seamlessly connecting disparate systems, and gaining the visibility you need to market faster. And with a transparent end-to-end application delivery process, you improve collaboration and bring accountability.
With Digital.ai, your organization can:
Synchronize software delivery with agencies' objectives by coordinating work across distributed teams and aligning the organization to a hybrid Enterprise Agile methodology.
Ensure that all teams are aligned to business goals and stay informed of changes by providing visibility into the goals, plans, and progress across portfolios, programs, releases, and teams.
Accelerate delivery by visualizing and planning, tracking, and predictably delivering work.
Adopt the Scaled Agile Framework (SAFe®) or another framework, such as LeSS or Spotify model, to guide and track agile planning and development.
Build with confidence and security that Digital.ai Agility has met the requirements of being FedRAMP Authorized."
Drive Consistency and Efficiency
Accelerate the digital transformation and deliver value continuously:
Improve consistency across the government agency with portfolio-level planning
Adopt leading enterprise agile frameworks for structured best practices and faster time to value
Reduce adoption costs by building upon your existing team-level solutions
Increase Speed of Development and Delivery
Respond to changing business, team, and project needs:
Prioritize your portfolio backlog to align development to business goals
Reduce time and costs for data consolidation with easy integrations to create a single source of truth
Accelerate time to value with insights from Agility dashboards, giving 100+ out-of-thebox metrics and analytics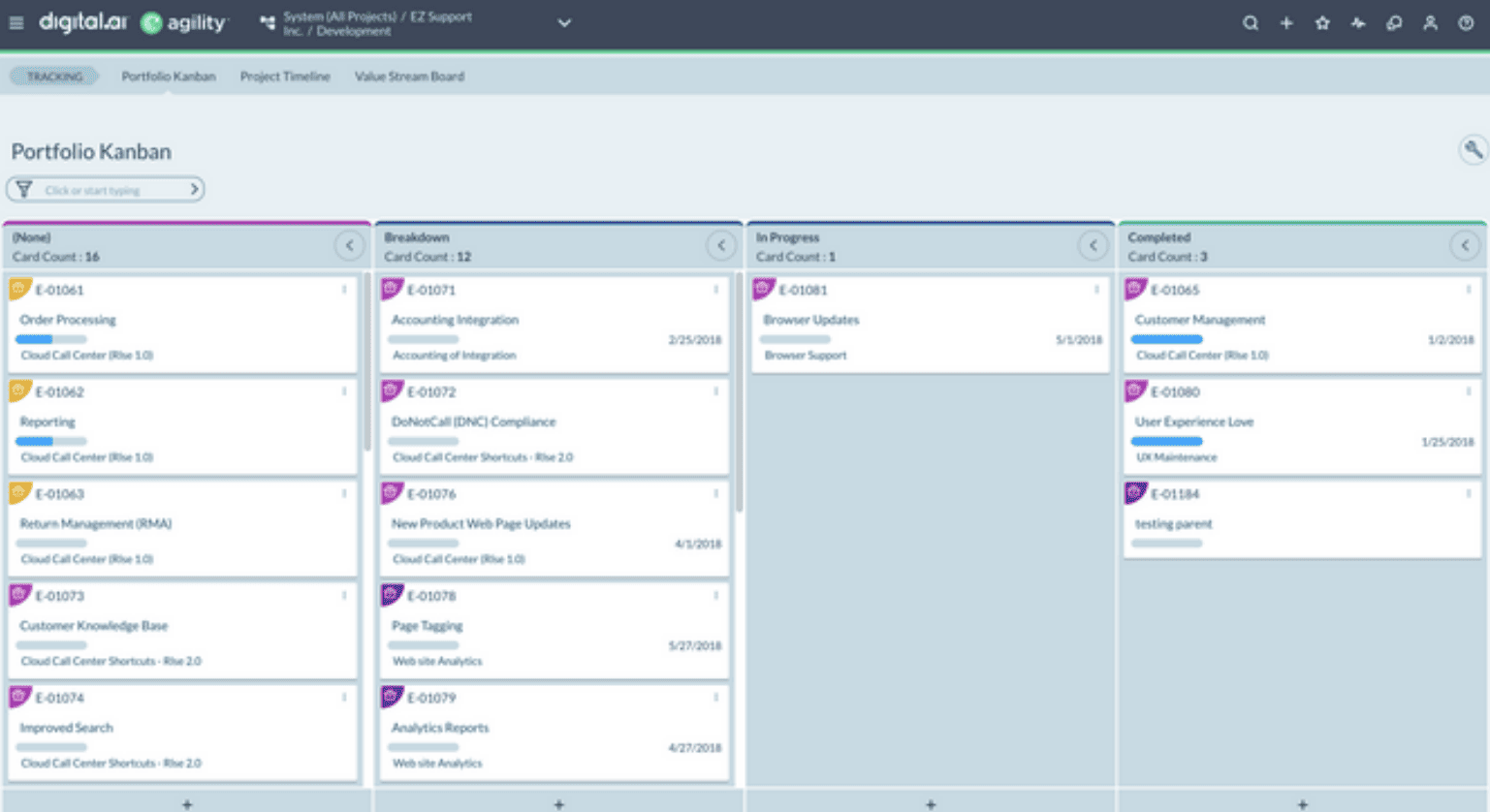 Improve Visibility and Collaboration
Achieve remote work success with distributed Agile and DevOps teams:
View portfolio end-to-end to coordinate execution, manage dependencies, and make data-driven decisions
Seamlessly track features, epics, and stories from planning to release
Diagnose issues with robust out-of-the-box metrics, dimensional hierarchies, and ad-hoc analysis
Agile portfolio planning
Plan and track strategic feature development across the entire organization — from teams to the portfolio.
Ideas management
Automate the process of capturing, collaborating on, prioritizing, and sharing the progress of feature requests from users and customers.
Strategic planning/roadmaps
Agile planning and development with the product roadmaps used by stakeholders.
Out-of-box-integration
Track progress in one place by integrating with multiple tools. Leverage out-of-the-box Agility connectors for Atlassian Jira, Broadcom Rally, Microsoft Azure DevOps, and others.
Custom dashboards with metrics & analytics
Build views for your processes, then visualize & track work from planning through production using data and insights to deliver more value.
Analytics lenses
Enable agile teams to use data-driven insights to improve development efficiency, prioritize the most critical features, and deliver products with more value.
Cross-team collaboration
Communities of practice, forums, and contextual collaboration rooms enable everyone from executives to developers to communicate and collaborate.
Scalable agile framework support
Support for your enterprise agile framework of choice, such as SAFe®, LeSS, DAD, and Spotify.
The Digital.ai Difference
UNIFIED DEVOPS PLATFORM - Integrate DevOps & Security capabilities to enable continuous delivery of software
POWERED BY ARTIFICIAL INTELLIGENCE - Generate predictive insights that provide the intelligence to make smarter investments
CONNECTED TO THE ENTERPRISE - Connect to existing processes, applications and infrastructure to propel innovation that find new market opportunities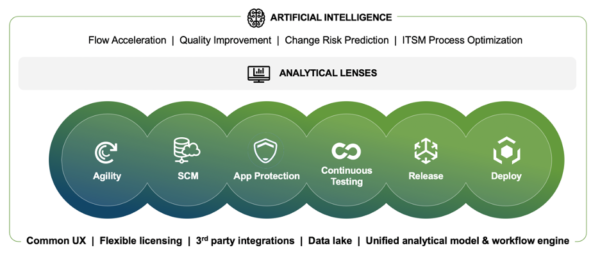 Want To Keep Exploring Other Resources?