Enterprise Agile Planning
Digital.ai is the first company to achieve FedRAMP Authorized for its enterprise agile planning solution, Digital.ai Agility. FedRAMP makes Digital.ai Agility the preferred solution for cloud-based agile development. Additionally, Digital.ai Agility provides the capabilities that enable government agencies to scale agile beyond team-level solutions and across the entire organization, supporting frameworks that include SAFe®, Scrum of Scrums, LeSS, and more. As part of the Digital.ai Platform, Digital.ai provides a complete end-to-end platform that connects software development and delivery and provides government agencies with the flexibility to deploy to the environment of their choice, from on-premises to mainframe, to Kubernetes and the public cloud.
Methodologies
Scrum
Extreme Programming (XP)
Lean/Kanban
Hybrid
LeSS
Customized
One-Click Reporting
High-level program dashboards
Daily stand-up reports
Customizable workflow reporting
Project health checks
Budget tracking & forecasting
Transparency
Push continuous updates
Maintain version control
Beta app testing
App data and feedback
SAFe
Essential SAFe
Large solution SAFe
Portfolio SAFe
Full SAFe
Planning & Tracking
App management and access control
Active directory integration & SSO
Integrates with all major COTS MDM solutions
Training & Compliance
Agile in government
Agile transition
Agile adoption
Corporate information
NAICS Code: 541519, 511210
DUNS Code: 139023258; 003131385; 079790634
Cage Code: 3FLQ7
Vertosoft GSA Contract: #GS-35F-688GA
About Digital.ai
Digital.ai is an industry-leading technology company dedicated to helping Global 5000 enterprises achieve digital transformation goals. The company's AI-powered DevSecOps platform unifies, secures, and generates predictive insights across the software lifecycle. Digital.ai empowers organizations to scale software development teams, continuously deliver software with greater quality and security while uncovering new market opportunities and enhancing business value through smarter software investments.
Additional information about Digital.ai can be found at digital.ai and on Twitter, LinkedIn and Facebook.
Learn more at Digital.ai Government Solutions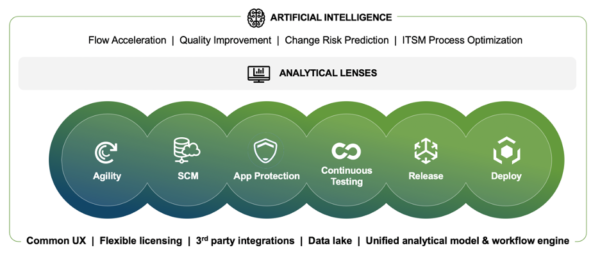 Want To Keep Exploring Other Resources?