Manage complexity and accelerate delivery speed, while reducing risk and increasing visibility to drive successful digital transformation.
In today's digital world, software organizations must support the accelerating speed of business change to remain competitive. With the acceleration of digital transformation, most enterprise software delivery teams face three main challenges, listed below.
First is infrastructure complexity. As you embrace the cloud native journey, application infrastructure spans both legacy and modern technologies, and the complex release process expands. Building, maintaining, and releasing software across hybrid technology environments using disconnected tools and processes cause unnecessary delays, change failures, and manual coordination.
The second is time to market. It is critical to align software releases to business priorities while delivering resilient applications. Lack of governance, compliance, and deployment strategies planned upfront can cause distress to businesses and customers.
Third, visibility. Organizations often suffer due to a lack of visibility and poor orchestration of releases. Application development and release teams don't have complete visibility into the application pipeline, causing significant application delivery delays.
You need a unified product to help you orchestrate complex application environments, automate deployment, and predict the risks of application failure so you can deliver value to the business.
Challenges
Teams struggle with complex release processes across the hybrid infrastructure and fragmented tools.
Business requires faster releases of resilient applications with minimum risk to customers.
Leaders lack visibility, governance, and compliance, making it hard to prioritize and optimize application delivery.
Digital.ai Release and Deploy helps Schneider, one of the largest providers of truckload and logistics services, achieve:
5x faster deployment setup
10x faster deployment execution
+4x reduction on environment updates
"Digital.ai Release is so intuitive and easy to use that they know it's their one-stop shop for almost everything that they need."
Release Manager, Schneider
Manage complexity and accelerate delivery speed while reducing risk and increasing visibility to drive successful digital transformation.
Digital.ai Release is a market-leading continuous delivery, release management, and orchestration solution that enables teams to collaborate, automate governance, and eliminate bottlenecks across development processes.
Release works like a simplified digital glue that connects the dots between your teams, processes, and tools to create an integrated release flow across all your application environments. Whether you have simple or complex, technical or non-technical tasks, or a combination of all of these, Release has got you covered.
Our best-in-class integrations connect Digital.ai Release to your existing DevOps ecosystem, allowing you to get your current release processes defined and orchestrated easily. The ability to model and unify all kinds of release processes makes it easy for you to track, optimize, and prioritize software releases.
The fully configurable dashboards deliver a single pane of glass of both historical and real-time data from both Release and your integrated DevOps tools, giving you a complete picture of what is happening across your Release landscape to every team. With the end-to-end software delivery insights, you will be able to identify bottlenecks, release better quality software more frequently, and drive your cloud-native journey in a highly scalable manner.
Digital.ai Release process automation streamlines your software delivery cycle time while reducing the risk of a release failure.
Using our release templates to model diverse processes, you can promote best practices and consistency across the organization, even when using disparate tools, making releases repeatable and predictable.
In addition, Digital.ai Release assesses the risk of failure for each of your releases. It alerts those involved so that they can quickly identify and fix the issues before getting into production.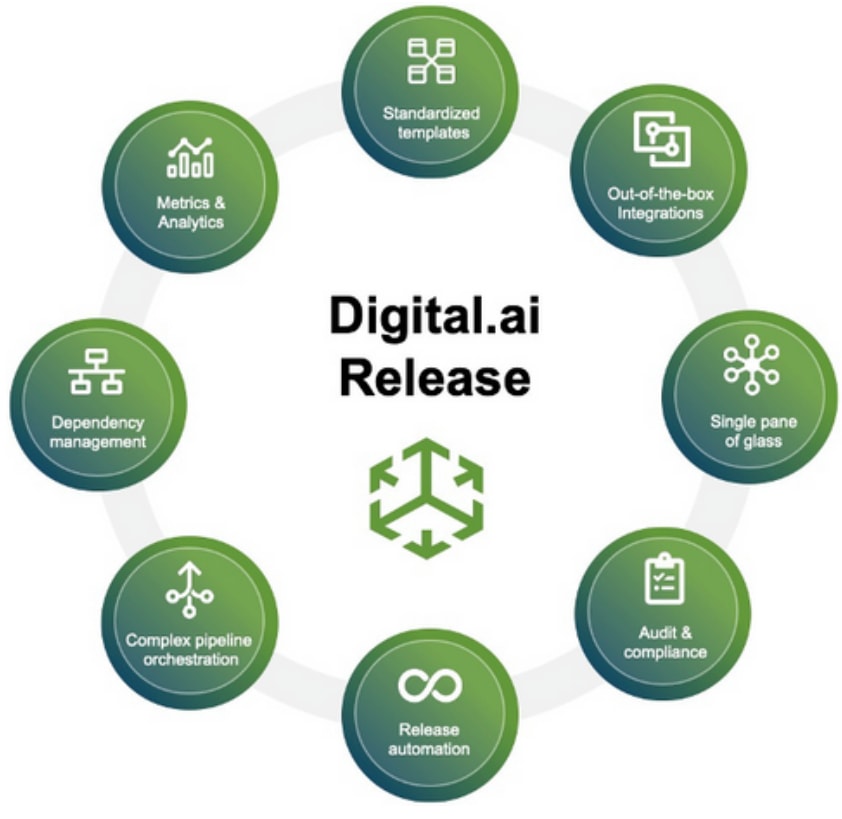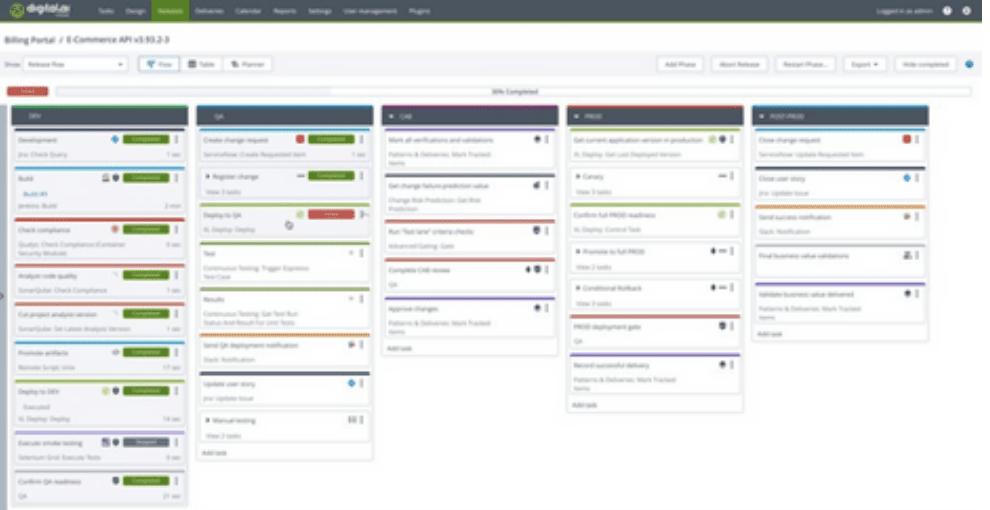 Unify all releases, pipelines, and processes into a single view for easy management and optimization
Integrate seamlessly with all your existing DevOps ecosystems
Ensure consistency and collaboration across Agile and DevOps teams with a unified view of data
Accelerate Delivery and Reduce Risk
Orchestrate diverse processes leveraging pre-defined templates to make releases repeatable and predictable
Track all releases of various levels of automation to reduce errors and accelerate delivery
Assess the risk of failure and alert stakeholders involved to fix potential issues before they get into production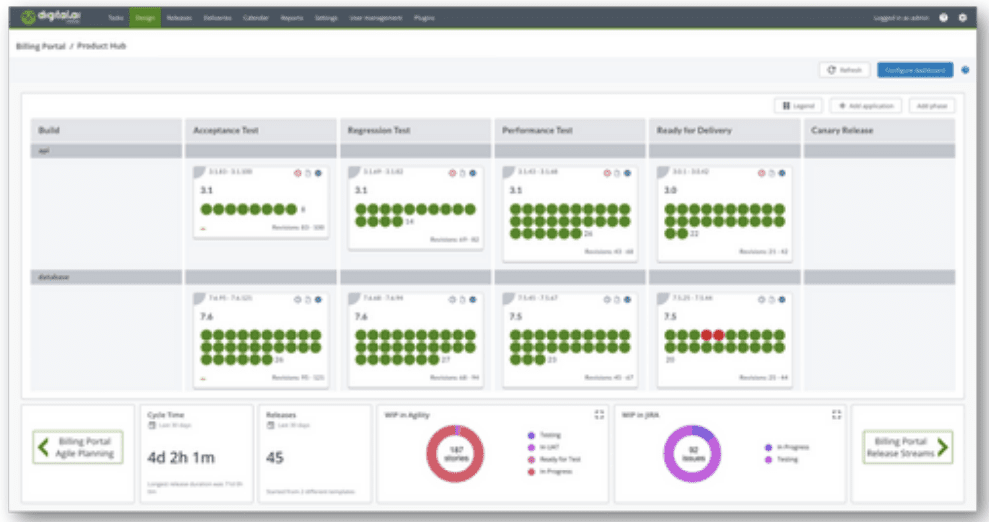 Increase Visibility to Drive Transformation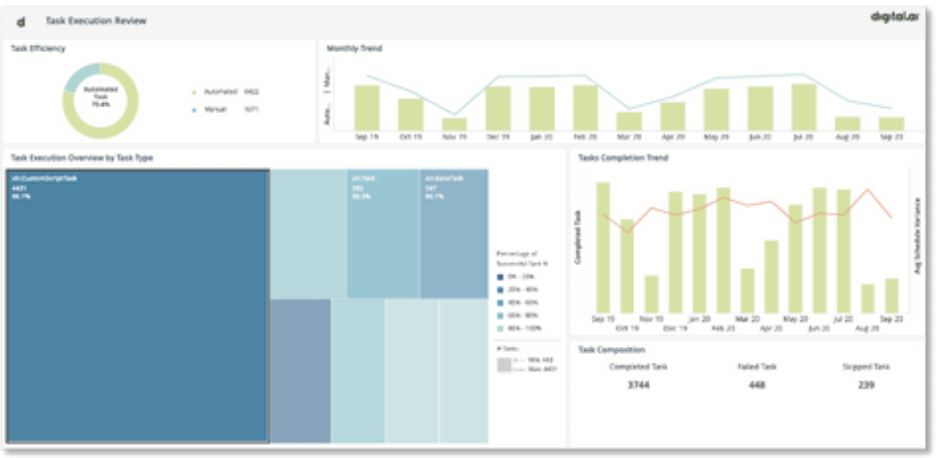 Provide a single pane of glass view of your Release landscape and integrated systems
Connect data at each stage of the release process with the corresponding Agile stories in progression boards to track progress
Provide robust analytical capabilities, metrics, dimensional hierarchies, and comprehensive reports to make data-driven decisions
Complex Pipeline Orchestration
Easily model, visualize, and orchestrate simple and complex release processes across teams and hybrid environments.
Standardized Templates
Leverage release templates to promote compliance and consistency across teams and the organization.
Release Automation
Automate manual tasks to accelerate your cycle time while reducing risk of application failure.
Out-of-the-Box Integration
Easily integrate with the existing tools in your environment like Jenkins, Ansible, Git, Atlassian Jira, ServiceNow, Digital.ai Products, and hundreds more.
Dependency Management
Manage dependencies within and across multiple release pipelines, increasing reliability and better task hand-offs.
Single Pane of Glass
Have visibility beyond release, understand business priorities, and define better deployment strategies – Including DORA Metrics.
Analytics Lenses
Get end-to-end release insights for improved efficiency, performance, and reliability.
Security, Audit, & Compliance
Ensure compliance of release task, with a robust audit trail. Apply security controls to respective production environments.
About Digital.ai
Digital.ai is an industry-leading technology company dedicated to helping Global 5000 enterprises achieve digital transformation goals. The company's AI-powered DevSecOps platform unifies, secures, and generates predictive insights across the software lifecycle. Digital.ai empowers organizations to scale software development teams, continuously deliver software with greater quality and security while uncovering new market opportunities and enhancing business value through smarter software investments.
Additional information about Digital.ai can be found at digital.ai and on Twitter, LinkedIn and Facebook.
Learn more at Digital.ai Release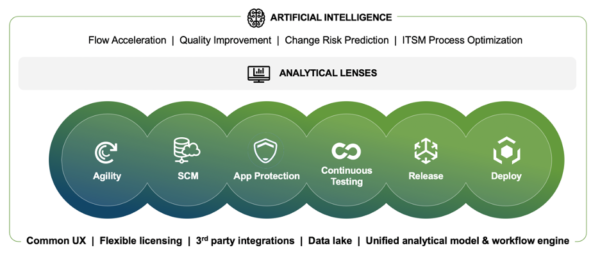 Want To Keep Exploring Other Resources?