Grow your testing center of excellence with advanced capabilities
Digital.ai Continuous Testing enables you to mature, optimize and scale your web and mobile app testing at your own pace. Delivering high-quality software is made possible by automating testing that covers functional, performance, and accessibility use cases while simplifying test creation and debugging. If that sounds good to you then it might be time to look at these advanced capabilities.
Digital.ai Continuous Testing Lens
Analyze code coverage, build & test automation, test cases, test execution, and defects to spot and deep dive into systemic issues and trends
Leverage Advanced Capabilities of Digital.ai Continuous Testing
Digital.ai Continuous Testing is an enterprise-grade continuous testing solution for web and mobile that includes:
Continuous Testing Lens - Increase visibility between testers and stakeholders and boost organizational communication. The outcome is improved app quality and increased release velocity.
Enhanced product support - Provides advanced level support at the premium level
Expanded Continuous Testing Capabilities
Continuous Testing Lens
Ensure your strategy and business goals align with data driven metrics that eliminate bottlenecks and improve quality.
Premium Support
Top-level support extending support hours, initial response objectives based on criticality, as well as training and services discounts.
The Digital.ai Support team strives to provide our customers with timely and effective solutions to their issues. Acting as the single point of contact for each issue, our subject matter experts leverage their years of Digital.ai product experience, as well as the greater Digital.ai ecosystem, to get you the answers you need, when you need them.
Learn more at https://digital.ai/support
The Digital.ai Difference
UNIFIED DEVOPS PLATFORM - Integrate DevOps & Security capabilities to enable continuous delivery of software
POWERED BY ARTIFICIAL INTELLIGENCE - Generate predictive insights that provide the intelligence to make smarter investments
CONNECTED TO THE ENTERPRISE - Connect to existing processes, applications and infrastructure to propel innovation that find new market opportunities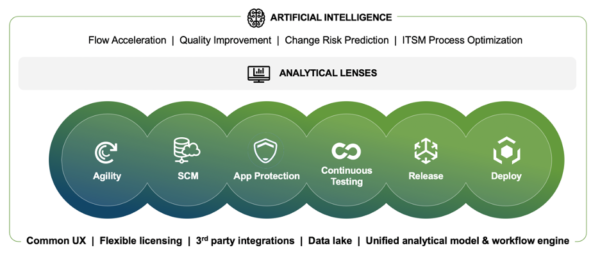 Want To Keep Exploring Other Resources?