Delivering quality applications makes users happier and increases business outcomes. Beyond continuous testing, companies need to predict the risks of application defects in production and make trade-off decisions before impacting customers and businesses.
Intelligence Quality Improvement gives you prescriptive recommendations to increase testing coverage for the organization, specifically for a Project or Engineering Manager. It also provides measures to test the effectiveness of your test coverage and views to help identify gaps across the development lifecycle.
With Digital.ai Intelligence Quality Improvement, you can establish consistent quality improvement practices across the organization by measuring success factors in the best-performing value streams.
Quality Improvement
Pinpoint and prevent factors that negatively impact customer experience
Why Predict Data
Intelligence Quality Improvement correlates data from many best-of-breed Agile planning tools (Digital.ai Agility, Atlassian Jira), continuous integration tools (Gitlab, Bitbucket, Jenkins, Azure DevOps Build, Teamforge), application lifecycle and testing tools (Digital.ai Continuous Testing, Microfocus ALM and Quality Manager), and many others.
Reduce Rework
Prevent defect leakage
Increase code coverage
Improve Quality
Improve pipeline quality
Increase test effectiveness
Reduce Release Risk
Predict release quality risks
Avoid release rollbacks
Maturing from Business Intelligence to Artificial Intelligence

Expanded Flow Acceleration Capabilities
Integration Marketplace
Out-of-the-box plugins to leading application development, build, and quality tools.
Domain Specific Dashboards
Dozens of pre-configured, ready-to-use dashboards and curated insight metrics.
Cloud Data Lake
Integrated data from multiple sources, normalized and available in a cloud data lake.
Flexible Platform
Build your own metrics and dashboards to support your business needs.
Quality Improvement Dashboard Samples
Release Quality Risk
Predicts application defects in production and displays risk factors.
Prevent Defect Leakage
Prioritizes defect prevention opportunities in the various value streams.
Quality Effectiveness
Provides prescriptive recommendations to improve testing coverage and effectiveness.
Identify Blocked Pipeline
Identifies quality bottlenecks and the impact of delay on flow.
Adopt an AI-driven Approach to Increase Throughput and Deliver Value
About Digital.ai
Digital.ai is an industry-leading technology company dedicated to helping Global 5000 enterprises achieve digital transformation goals. The company's AI-powered DevSecOps platform unifies, secures, and generates predictive insights across the software lifecycle. Digital.ai empowers organizations to scale software development teams, continuously deliver software with greater quality and security while uncovering new market opportunities and enhancing business value through smarter software investments.
Additional information about Digital.ai can be found at digital.ai and on Twitter, LinkedIn and Facebook.
Learn more at Digital.ai Intelligence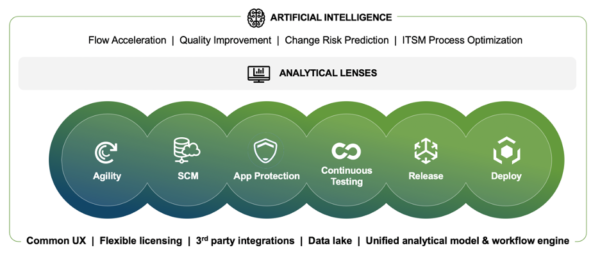 Want To Keep Exploring Other Resources?