Intelligence Service Management Process Optimization
Accelerate IT service delivery, reduce service disruptions, and deliver value.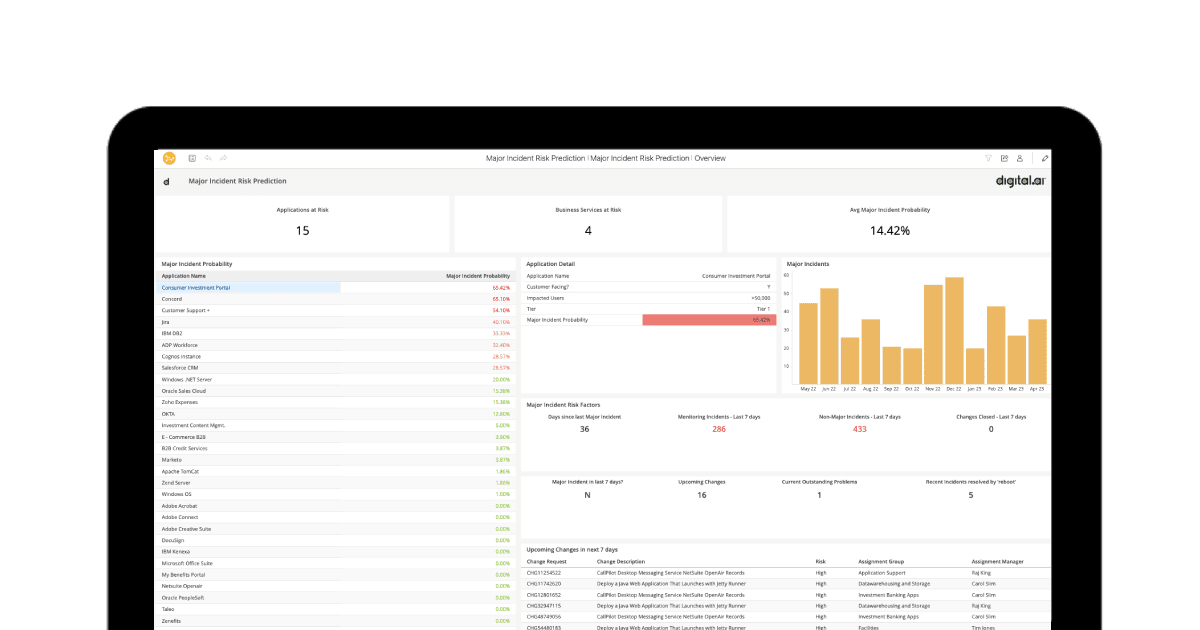 Intelligence Service Management Process Optimization is an enterprise-grade AI-powered analytics product that blends data across the IT landscape — including ITSM, APM, ITIM, and IT DevOps
Prioritize Delivering Value and the Best Experiences Using AI Analytics
Accelerate IT service delivery
Predict and monitor trends to solve problems intelligently
Leverage natural language processing to identify bottlenecks
Rapidly remediate SLA breaches using AI to best possible solutions
Prevent service disruption by predicting failures
Use artificial intelligence and find early warning system errors
Predict risky changes while identifying root causes to mitigate risk
Reduce change failure, MTTR rates, and change-related incidents
Deliver value based on business priorities
Identify and prevent service impact on critical business areas
Find which applications have the highest risk of a significant incident
Identify and operationalize opportunities to improve MTTR
AI-infused insights
360 visibility with hundreds of predictive insights and analytics.
Scalable and Modular
Top-down and bottom-up views for executives and team members.
Support multiple best-practices
Pre-packaged dashboards to support various best practices.
Customize and Extend
Ability to create new dashboard, and views based on your needs.
BYO-Data Source and KPIs
Ability to incorporate your own data and KPIs into the platform.
Want to take a deeper dive?