Accelerate innovation, drive efficiency, and reduce risks across portfolio planning, software development & delivery, change management, and operations
Every company struggles to prioritize what matters the most to bring value to customers and grow revenue.
Transparency in application development plays a big part in business success. However, failing to deliver quality applications on time can ruin customer experience and therefore impact business organizations.
How do you respond to unexpected business needs? Can you really predict when applications will be delivered? Can you identify bottlenecks and prioritize improvements in the entire software development lifecycle (SDLC)? What is the probability of a change being successful?
Continuously improving application delivery practices in a data-driven way is increasingly critical to reaching financial and business goals. But analyzing millions of data points and understanding their relationships in a smart way is NOT a simple task!
While Value Stream Management (VSM), Agile, DevOps, and AIOps practices are here to break the silos between teams and simplify the SDLC, organizations realize that the process is fragmented and complex. The sprawl of tools with siloed embedded reporting does not give the teams a "whole view" of the value streams. Every tool focuses on its domain, having limited integration and data correlation, making it hard to pinpoint bottlenecks and deliver applications that drive business value.
Challenges
Low morale due to application delays
Siloed teams with limited visibility beyond their domain
Limited governance and poor compliance
Toolchain sprawl and hybrid environments
Junk data and unmatched data sources
Inability to standardize and scale
Digital.ai Intelligence: Your single pane of glass
Digital.ai Intelligence brings you dynamic views from your entire SDLC toolchain at levels of the organization, from individual team views to portfolio-level executive summary KPIs.
Digital.ai Intelligence helps you with your most critical decisions to drive continuous agility.
AI-Powered Analytics that you need to align software delivery to business strategy, streamline value streams, and increase application reliability.
Intelligence - is an enterprise-grade cloud product that brings transparency to the SDLC, stitching together thousands of points with AI-Infused algorithms so you can align the organization's technology functions with the business's urgent and unexpected needs.
Transparency and insights for every business - Digital.ai Intelligence automates data collection, modeling, and analysis from multiple sources and presents it in an easy-to-read dashboard format. It also provides hundreds of analytics out-of-the-box, correlating data from Digital.ai solutions and other vendors' similar tools. Its flexibility and scalability allow companies to expand across technical and non-technical users, leaders, and business users, giving consistency in decision-making.
The power of AI-Machine Learning algorithms - Using AI can enhance decision-making and lessen the burden of manual, labor-intensive tasks. When given this role, artificial intelligence can integrate with existing processes more seamlessly and enhance them in profound ways. AI and machine learning models also excel at doing the "tough work" behind the scenes, such as finding relationships and patterns in data that would take hundreds of person-hours to discover and assemble. Giving AI duties like these allows software delivery teams to accomplish more at a quicker pace while reducing organizational risk exposure overall.
Digital.ai Intelligence
Analytics and predictive data at each stage of the application delivery process, including standard industry metrics such as Flow and Dora.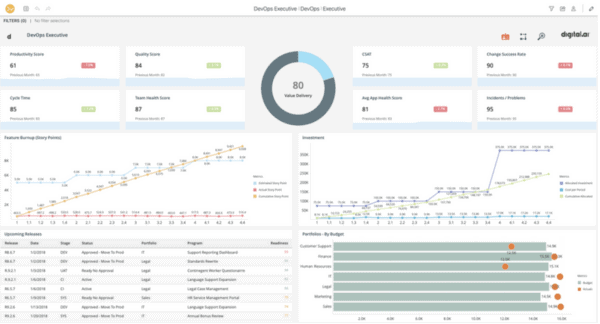 Organizations worldwide crave the advantages artificial intelligence offers, but IT leaders may feel decision paralysis about where to start. Their hesitation is smart: Implementing AI leads to a return on investment only when the right solutions are chosen with the right use cases in mind.
Increase Value Stream Transparency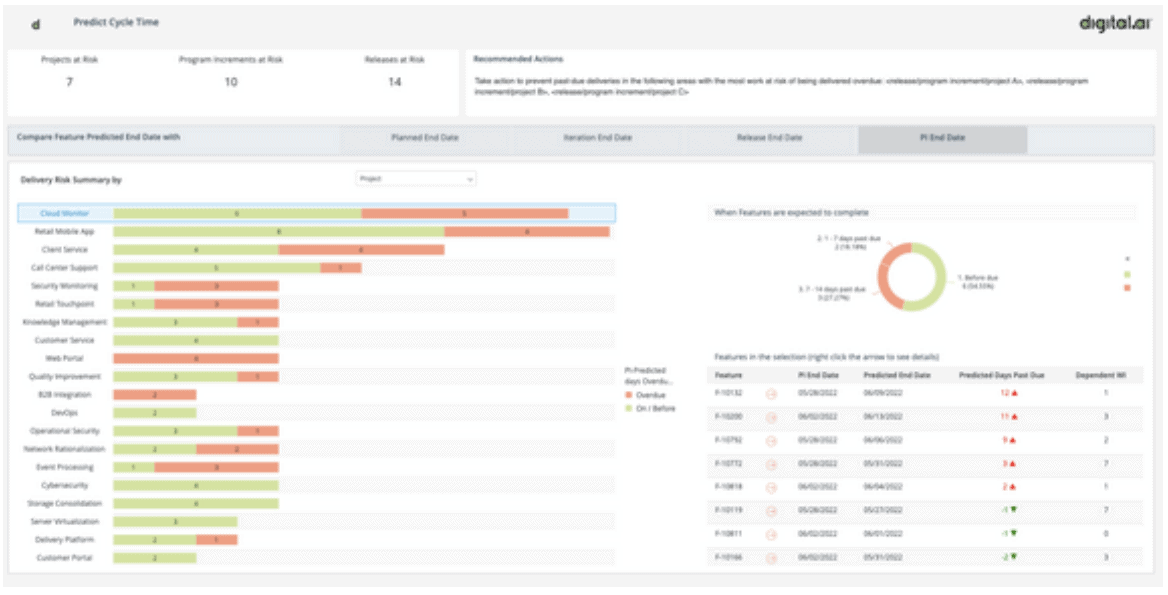 Get the information you need anytime - select from pre-built dashboards or create your own
Choose among hundreds of correlated metrics. Data sources include various tools allowing you to bring your own (BYO) data and KPIs
Accelerate Software Delivery
Reduce inefficiencies in the software lifecycle management process and gain agility
Get predictable data to identify bottlenecks and reduce cycle time in every aspect of your application pipeline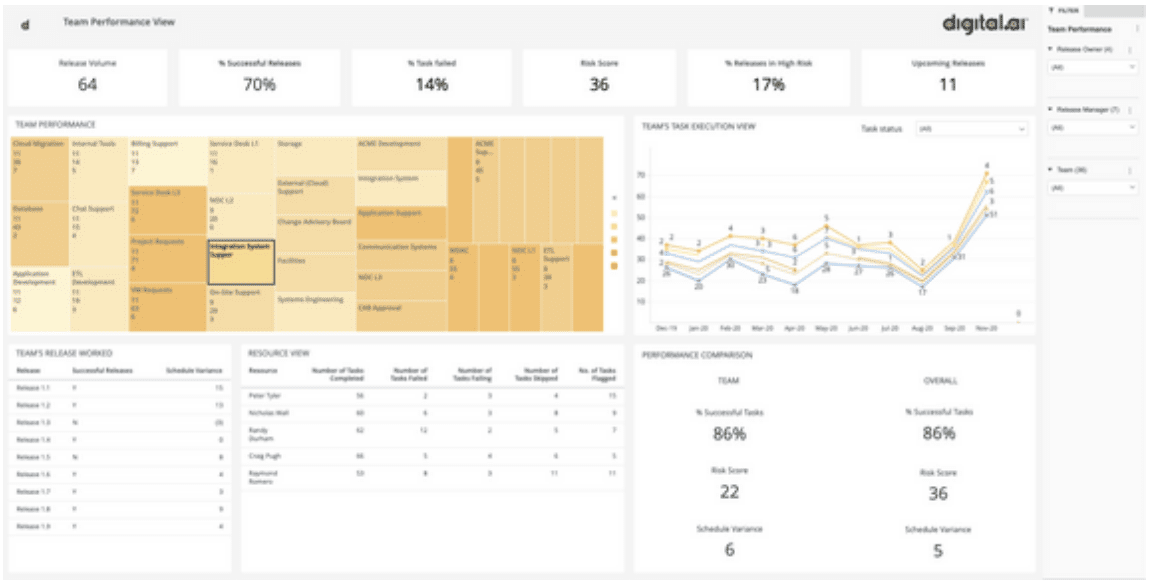 Deliver Resilient Applications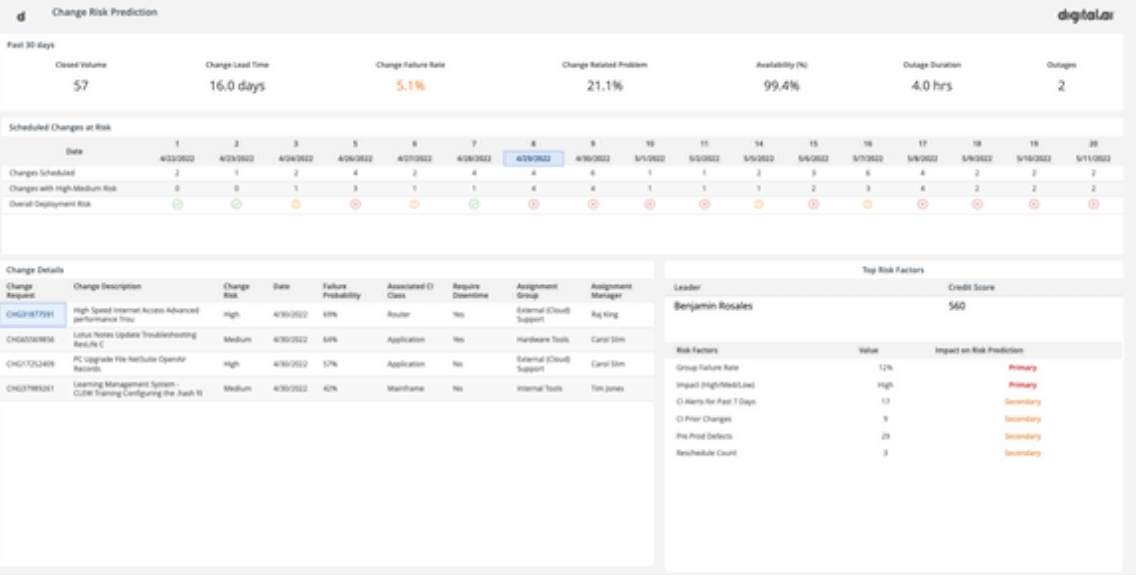 Gain business and development alignment to deliver critical applications to the business
Improve change management process and reduce business risks with predictable insights
Digital.ai Intelligence consists of 3 key components: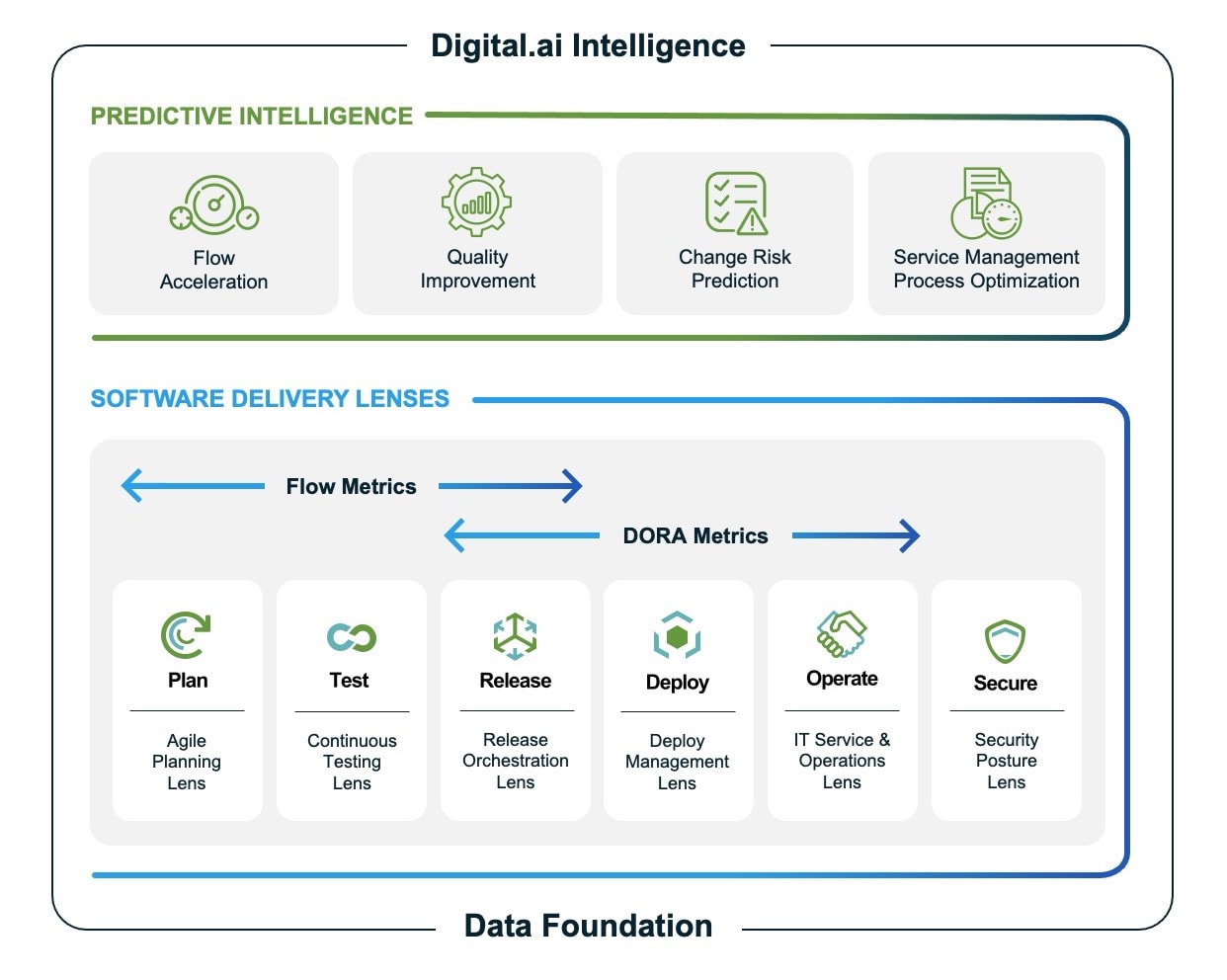 Data Foundation
Centralizes data from multiple sources, including data from Digital.ai products and via integrated 3rd party software delivery tools, so teams have a complete set of data vs. siloed reports and analytics that individual products provide today.
Software Delivery Lenses
Domain-specific, persona-based dashboards and reports which analyze both current and historical data. It provides key performance indicators to improve software delivery efficiency, speed, and quality.
The Software Delivery Lens combines data across the entire software delivery lifecycle to provide teams with insights at each stage of the application delivery process, including standard industry metrics such as Flow and Dora metrics.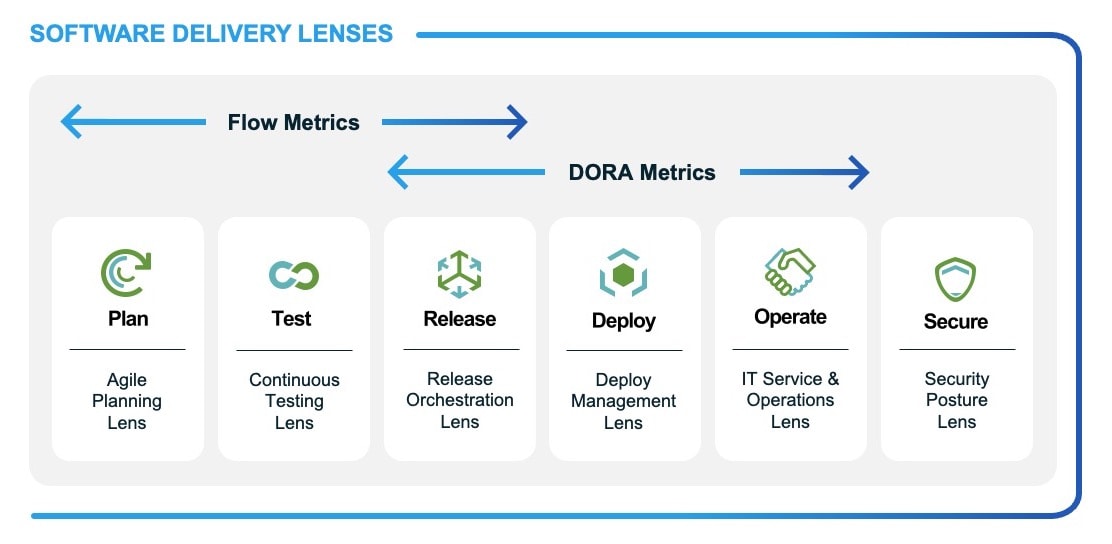 Predictive Intelligence
Applies machine learning algorithms to Digital.ai products and integrated 3rd party data sets to help managers assess alternatives, manage tradeoffs, and drive decisions.
AI-based analysis helps teams more accurately predict the software delivery process, eliminate risk, and enable them to provide more secure, quality applications.
From top-down and bottom-up, Digital.ai Intelligence brings you dynamic views from your entire SDLC toolchain. It helps you with your most critical decisions to drive continuous agility.
Integrated Technology
Next-generation, integrated end-to-end SDLC tools. Out-of-the-box integration from Digital.ai, and key vendors' tools.
Enterprise-grade Solution
High performance cloud architecture, and leveraging security and encryption best practices.
AI-infused Insights
360 degree visibility with hundreds of predictive insights and analytics.
Scalable and Modular
Top-down and bottom-up views for executives, teams, and team members. It scales based on your needs.
BYO-Data and KPIs
Ability to incorporate your own data and KPIs into the platform to ensure a complete view of your value streams.
Customize and Extend
Ability to create new dashboard, analytics and views based on your executives or teams' needs.
Support Best Practices
Pre-packaged dashboards and analytics to support various best practices. E.g., SAFe, DORA, ITSM, PMI, and others.
Want To Keep Exploring Other Resources?