Accelerate value delivery, predict schedule rise, and improve throughput with AI-powered analytics
While scaling agile accelerates application development and delivery, companies struggle to deliver value. With Digital.ai Intelligence Flow Acceleration, you gain visibility across your software development lifecycle with prescriptive insights and metrics to continuously improve and measure your value streams.
Intelligence Flow Acceleration, an enterprise-grade cloud predictive analytics product, provides preconfigured dashboards with dozens of curated data-driven insights. It gives you a prescriptive and predictive approach to reducing lead times and improving your business goals. Flow Acceleration helps you proactively identify and eliminate bottlenecks and non-value-added work to improve productivity while reducing costs.
Flow Acceleration
Predict, identify, and make data-driven trade-offs to speed up application delivery while prioritizing and delivering value.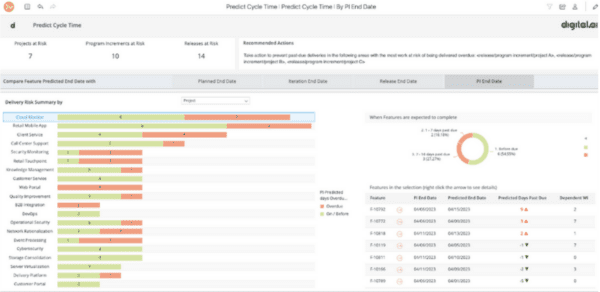 Why Predict Data
Intelligence CRP correlates data from many best-of-breed DevOps solutions, including CI/CD (Digital.ai Release and Deploy, Azure DevOps), IT Service Management (ServiceNow, BMC), and others. The benefits are:
Increase Throughput
Reduce cycle time
Increase business value
Improve Productivity
Reduce non-value-added work
Eliminate bottlenecks
Reduce Risk
Detect at-risk dates early
Improve release predictability
Maturing from Business Intelligence to Artificial Intelligence

Expanded Flow Acceleration Capabilities
Integration Marketplace
Out-of-the-box plugins to leading application development, DevSecOps, Operations tools.
Domain Specific Dashboards
Dozens of pre-configured, ready-to-use dashboards and curated insight metrics.
Cloud Data Lake
Integrated data from multiple sources, normalized and available in a cloud data lake.
Flexible Platform
Build your own metrics and dashboards to support your business needs.
Flow Acceleration Dashboards Sample
Predict Cycle Time Key Factors Analysis
Defines and displays the Work Item's key factors for cycle time prediction.
Detect and Eliminate Bottlenecks
Provides recommendations on where to remove bottlenecks.
Improve Predictability
Improves on-time delivery for value streams with the highest past-due work items.
Reduce Non-Value Added Work
Manages non-value work items and re-prioritizes them based on business outcomes.
Adopt an AI-driven Approach to Increase Throughput and Deliver Value
About Digital.ai
Digital.ai is an industry-leading technology company dedicated to helping Global 5000 enterprises achieve digital transformation goals. The company's AI-powered DevSecOps platform unifies, secures, and generates predictive insights across the software lifecycle. Digital.ai empowers organizations to scale software development teams, continuously deliver software with greater quality and security while uncovering new market opportunities and enhancing business value through smarter software investments.
Additional information about Digital.ai can be found at digital.ai and on Twitter, LinkedIn and Facebook.
Learn more at Digital.ai Intelligence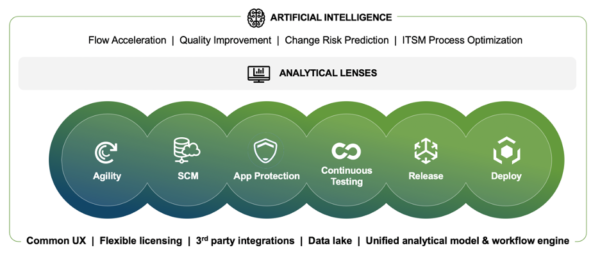 Want To Keep Exploring Other Resources?